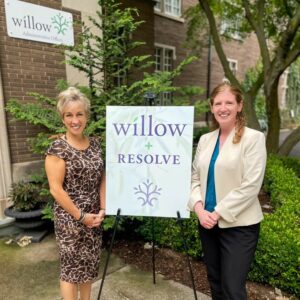 Welcome, we're so glad you're here!
As of July 1, RESOLVE of Greater Rochester and Willow Domestic Violence Center have formally merged, combining nearly 65 years of service to survivors of domestic violence in Greater Rochester. This merger allows Willow to expand clinical expertise and mental health services, providing a continuum of care on a survivor's journey to a safe life.
If you are a current or past client of RESOLVE of Greater Rochester and are looking for more information about Willow's services, please contact the 24/7 Hotline at 585-222-SAFE (7233) or by text at 585-348-SAFE (7233). Or, to learn more, click here. 
Survivors often face challenges on their journey to safety, and their needs are unique and varied, especially with increased demand while recovering from the COVID-19 pandemic. With the RESOLVE team onboard, Willow has created a seamless survivor experience allowing therapists to work in partnership with case managers and advocates. This allows us to address the complexities of situations faced by survivors: trauma, mental health, legal, financial, and housing concerns. Therapists will also offer and support workshops that expand Willow's prevention and outreach efforts. To learn more about this merger, click here.
Your unwavering support keeps Willow centered and nurtured for growth.